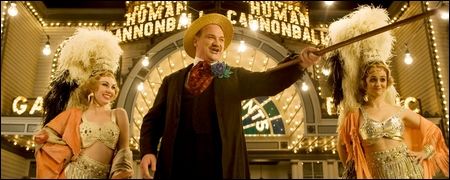 Being able to read and speak multiple languages (thank god), I am very blessed for connecting dots and bridges between art forms of different cultures.

I have been a Mafia Maniac since I first knew that "The Godfather" was all based on true stories but resynched and compiled in one single movie and that all the characters were actually true legends of the mob history.
But since 2 hours movie is a very short time to expose such complex personalities for notorious men like Lucky Luciano, Meyer Lansky, Raymond Patriarca, etc... I was always expecting someone to create a true story of the mafia in high budget (Jerry Bruckheimer Money!) type of TV show. And then came "Boardwalk Empire" : a flashing light, superb art deco tv show with one of the most talented actor, Steve Buscemi.
I will not speak about the undoubt success of the new HBO/Scorcese/Walberg produced hit serie. I can not imagine even in my worst nightmare that this will not be followed by at least one other season.
But I got this brilliant idea to make this success last even longer : Switch characters at each season. And for each season, bring one outstanding hollywood hot shot to play for the whole season and then, switch to a new one.
For example, if this 1st season focuses on WASP half politician / half Gangsta Nucky, why not focus on Lucky Luciano (Italian Amaerican) rise to the top (and down fall)? Then maybe Meyer (Jewish Kosher Nostra Godfather), and then maybe even Bumpy Knuckles (1st African American notorious gangster) ?

And there you have it : the history of America seen through the prism of Organized crime, but also the history of all its minorities, races and religious beliefs.
And what could be a better scenario to base this TV Show than the comic book "Ce qui est à nous" (What's ours) by french David Chauvel and Erwan Le Saec.

I don't know if it has been translated in english but I hope Scorcese and Walberg are reading this. (lol!!!) If they do, I'm telling you it's the best mafia history book ever !

Long live Boardwalk Empire !